SNMP Alarm Encoder
Model 2314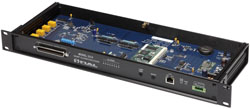 • Add SNMPv2 Alarms and Controls
to existing IP network
• Configure, control and view local status
with a web browser (HTTP & HTTPS)
• Fully compatible with existing
LAN/WAN IP networks
• Contact closure, analog threshold
and virtual alarms with SNMP
traps and tables
• Allows remote control via SNMP sets
and via a web browser
• Analog input voltage table with high
and low threshold alarms
• 8 Front panel alarm LEDs
• Real time clock with battery backup,
Network Time Protocol synchronization

Key Features:
• SNMPv2 Alarm and Control
• Configurable over the IP Network
• Ethernet 10/100baseT Port
• 8 Opto-isolated Alarm Inputs
• 4 Control Outputs (Form C)
• 1 Alarm Summary Output
• 8 Analog Inputs (may be paired
for differential)
• Up to 16 Virtual (Boolean) Alarms
• Event Log
• Multiple web logins for admin, control,
or view-only
• 48 Volt DC powered

Model 2314 Characteristics
Ethernet Interface
LAN Port
10/100baseT
RJ45 Female
Performance Data Packets, buffers, comm errors (MIBII)
LED Indicators
Power (green)
Summary alarm (red)
LAN port activity (green and amber)
8 Alarm states (red)
Craft Configuration Port
RJ45
RS-232, 9,600 baud
8/N/1, no flow control
Power
Input Power
Power Consumption
Power Connection
48 VDC, floating
4 to 7 Watts
3 Pin Terminal block (+, -, chassis ground)
Environmental
Operating Temperature
Humidity Range
Storage Temperature
0° to +50° C
5% to 95%, Non-condensing
-40° to +70° C
Physical Characteristics
Shelf Size
Rack Mounting
Shelf Weight
1.75" H (1 RU), 19" W, 6" D
Flush, or 1 3/4" projection
3.5 pounds
Virtual Alarms
16 virtual (Boolean) alarms can be created combining external alarms,
control states and analog threshold violations
Alarm Inputs
8, Opto-isolated, 22 kΩ pullups
to station battery
Programmable Alarm severities
Programmable alarm delay before assertion
Control Outputs
4 Form C relays, momentary or on/off
1 Alarm summary Form C relay
Relays have 1-Amp DC contacts
Analog Voltages
8 ground-referenced, single-ended inputs
(or pair inputs for up to 4 differential inputs)
Alarm/Control/Analog Connector
Industry standard 50-pin female Champ
connector with Velcro quick-disconnect
retainer, or screw retainer
Optional 25-pair cable and pre-wired
66-block with cover and legend

Fial Incorporated has developed a nationwide reputation
for the design of microprocessor-controlled hardware
and the development of software for custom applications
at a competitive price.

We have been in business since 1978 with one basic
objective: to provide functional, cost-effective solutions
while maintaining strong communication links with
every customer.

Fial Incorporated's products encompass a wide range
of telecommunications alarm monitoring equipment
and support multiple protocols, including SNMP, TL1,
MCS-11, FarScan™, Badger, TBOS, ELMC and others.
Our devices include protocol converters, remote
encoders, synchronous packet data bridges,
baseband and IF protection switch products, and
other specialized equipment.