ELMC Five Port Bridge
Model 2130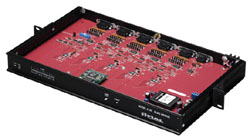 • Up to five way bi-directional bridging
of Extended Link Monitor Channel
(ELMC) protocol
• Two ports can create ELMC ring
protection
• Multiple bridge concatenation
for bridging beyond five ports
• Format conversion between async
19,200 baud and synchronous
(e.g. channel bank) connections
• 1 RU high
• Multiple rack mounting positions
• 18 to 56 VDC floating power supply

Key Features:
• Ring and Linear Operation
• Bridging and Filtering
• Embedded Craft Interface
• Remote Access
• Telemetry Performance Data
• Wide Range DC Power Input
• Proven ELMC Compatibility
• Synchronous and Asynchronous Operation

Model 2130 Characteristics

Telemetry Channel Interface
Five Communication Ports All ports RS-422
(RS-530/RS-449/V.35 compatible)
15-pin female D-Sub (DB15F) shielded Asynchronous (async) or Synchronous (sync)
Async Mode (bridge to radio):
19.2 kb/s, 8/N/1, all ports
Sync Mode (bridge to bridge):
19.2 to 75 kb/s, DTE, all ports
Port 5, switch selectable DTE or
64 kb/s DCE
Mode automatically sensed at startup
Bad packet suppression optional
DTE accepts clock, DCE supplies clock
Ports 1 & 2 Ring or local drop
Ports 3 & 4 Local drop
Port 5 Local drop or connection to another bridge
Bridging Modes, Ring Hub plus Selective
Bridging Modes, Linear Hub, Switch Polls and Switch All
plus Selective
Performance Data Packets, buffers, comm errors and
ring faults

Craft Configuration Port
9-pin female D-Sub (DB9F) shielded RS-232, ASCII, 19,200 baud
8/N/1, no parity, no flow control
Embedded local configuration program
(remote bridge access via Windows
program and ELMC port – laptop needs
RS-232 to RS-422 converter)

LED Indicators
Unit power and unit fail
Port TX & RX activity

Power
Input Power Range 18 to 56 VDC, floating
Power Consumption 4 Watts
Power Connection Barrier Strip, two #6 screws
(separate chassis ground strap)

Environmental
Operating Temperature 0° to +50° C
Humidity Range 5% to 95%, Non-condensing Storage
Temperature -40° to +70° C

Physical Characteristics
Shelf Size 1.75" H (1 RU), 19" W, 11" D
Rack Mounting Flush, 2" or 5-1/8" projection
Shelf Weight 6 pounds

Fial Incorporated has developed a nationwide reputation
for the design of microprocessor-controlled hardware
and the development of software for custom applications
at a competitive price.

We have been in business since 1978 with one basic
objective: to provide functional, cost-effective solutions
while maintaining strong communication links with
every customer.

Fial Incorporated's products encompass a wide range
of telecommunications alarm monitoring equipment that
support multiple protocols including SNMP, MCS-11,
TBOS, ELMC and TL-1. Our devices include protocol
converters, remote encoders, synchronous packet data
bridges, baseband and IF protection switch products,
and other specialized equipment.